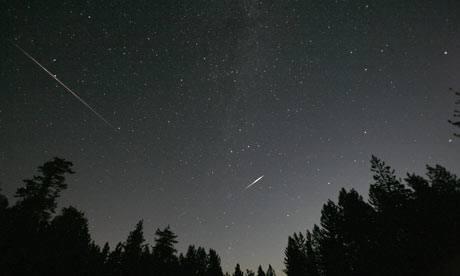 It was a little after 2:00 AM when I stepped out the back door into the damp summery darkness. The screen door scritched closed behind me and a few careful steps across concrete brought me to the edge of the patio. I looked up to find a skyful of stars welcoming me to their dance.
Bundled in Walt's winter flannel jacket, my feet protected by flipflops, my legs bare to the night air, I moved across the lawn toward the open field where the sky would be biggest. All my senses were on alert - the smallest frisson of fear heightening everything - so when the first meteor flashed overhead I jumped and ducked.
I stepped carefully to the middle of the field, our field, the open space that makes me happy just because it is. Facing south and east, I tipped my head back, decided that wouldn't work, then stretched my body full length on the ground. As I lay in the stubble, the sweet aroma of childhood summers rose around me, and the wonders of the universe spread out above.
First one small flash, then two huge arcs of light left shadows behind my eyes. Then nothing for a while. And as I waited under the umbrella of timeless eternity - scanning, breathing, listening - the past joined me, as though it were she who invited me to this star party in the first place.
In a childhood remembered more for pain than anything else, there were moments, nuggets of pure light like the stars overhead, in which I knew hope and connection. Summer nights under a sky even more vast than this one, lying in fragrance even deeper than this night's, I knew wonder and believed in a Being far different from the one being used to control my behavior. Each shooting star invited me to travel with it, promising freedom. Venus, the closest thing to sun in the night sky, twinkled her allure and my mind invented a life in her arms. The dippers, big and little, seemed magical somehow - I couldn't imagine that their perfect form was accidental. And I pondered the possibilities of life beyond my knowing.
Another series of streaks across the sky brought me back to the now. The dog that had been barking in the distance the whole time went suddenly silent. The hum of cars on the nearby highway stopped. The random squawks and snorings of night birds paused.
I was surrounded by stillness, as soft and blurred as the Milky Way stretched directly over my head. One moment, then two, then enough that I lost myself in the silence and the night and the perfection of being one small earthbound star enjoying the company of my brothers and sisters traveling the night sky.
Photo from Google Images